Receive the Lord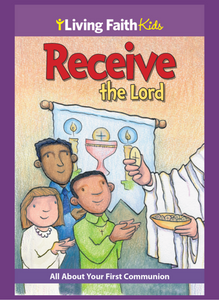 Children will love this engaging, colorful, educational and age-appropriate resource designed to help them to prepare for their First Communion! Activities and stickers keep the children interested while they learn about the meaning of the sacrament in a child-friendly format that introduces them to the symbols surrounding their First Communion and explains their meanings. As children prepare to "Receive the Lord," this one-of-a-kind resource will gently guide them to a better understanding of the mystery and blessing of the Eucharist so that they can better appreciate it when their once-in-a-lifetime day arrives!
New with all our Stickers Booklets : The Teaching Guide
Lead a fun and information-filled class as you teach the tenants of our Catholic faith to children ages 7-10. This easy-to-use teaching guide is written to accompany the Receive the Lord sticker booklet. Use as a guide for a complete 1-hour class, or easily incorporate the material into your weekly Religious Education classes. These lessons are certain to stick with children as they live out their faith.
Call Customer Service at 0917 632 6494 or send an email to lwc@bayard.ph to take advantage of this offer.