Sacraments Preparation Set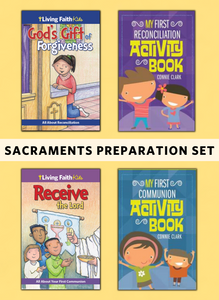 SALE
With this first reconciliation preparation set,  prepare children to acknowledge the real gift of God's love and mercy for us!
The set includes :
God's Gift of Forgiveness (Sticker Booklet)
Children explore the meaning of the sacrament's forgiveness and absolution in the broader context of God's amazing love and mercy for them.
Popular children's catechist Connie Clark has created a perfect complement to our First Communion sticker book, Receive the Lord, for children preparing for their First Penance and Reconciliation. Easy-to-read texts and joyful illustrations explain the symbols and rite of this sacrament along with age-appropriate activities to reinforce learning.
Each book includes a bound in set of colorful stickers and features puzzles and games to reinforce the foundations of Catholic Teachings. Perfect for ages 6-12.

My First Reconciliation
Help children prepare to receive the sacrament of reconciliation with this engaging, story-based activity book. By following Emily's story, children gain familiar context for God's great gift of forgiveness. As they draw and color pictures, solve puzzles, and read Bible stories, they'll learn kid-sized lessons about big concepts like baptismal grace, original sin, penance, and much more.
My First Reconciliation Activity Book reinforces catechetical teachings on many subjects including:
What's needed for a good confession?

How to go to confession

How to make good decisions (based on the Ten Commandments).
By encouraging children to follow Jesus teaching on love of neighbor, this little book also helps children understand the need for forgiveness, and can foster a lifelong love of the sacrament of reconciliation.
       3. Receive the Lord
Children will love this engaging, colorful, educational and age-appropriate resource designed to help them to prepare for their First Communion! Activities and stickers keep the children interested while they learn about the meaning of the sacrament in a child-friendly format that introduces them to the symbols surrounding their First Communion and explains their meanings. As children prepare to "Receive the Lord," this one-of-a-kind resource will gently guide them to a better understanding of the mystery and blessing of the Eucharist so that they can better appreciate it when their once-in-a-lifetime day arrives!
        4. My First Communion
These story-based activity books feature puzzles, games, brain teasers and more. Children can follow Charlie and Emily as they prepare to receive the sacraments for the first time, gaining familiar contexts for the Mass, the Eucharist, and God's forgiveness.
Each reinforces Catholic teaching with clear explanations about:
Various parts of the Mass and their meanings

How to receive these sacraments (what to do and what to say)

What's needed for a good confession

How to make good decisions (based on the Ten Commandments)
Featuring scripture memory verses and suitable prayers for children, plus follow-up activities to engage families, these activity books foster a child's natural sense of wonder and love of God.