Living with Christ- NOVEMBER ISSUE 2023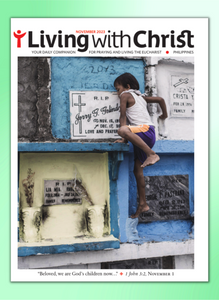 Let us prepare our hearts for the message of the Lord!
This November, Living with Christ leads us to see the truth and majesty of our Lord, Jesus Christ.
In the continuation of Bishop Ambo David's article, he finally shares with us the principles that are necessary in a truly Synodal Church — unity, liberty, charity.
In Our Spiritual Tradition, Ms. Mariz Umali encourages us with this message, "Through my actions, I hope to continue to live out the eternal wisdom found within these Gospel passages, enriching both my personal journey and the lives I touch.".
In Praying with Scriptures, Fr. Jose Allan Diaz, reveals to us the kingship of Jesus Christ, reigning in humility and simplicity.
May we humbly receive God's Word in our lives!