Living with Christ- OCTOBER ISSUE 2023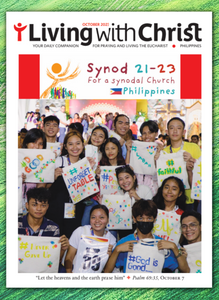 Let us willingly follow God's will!
In this month of October, Living with Christ gives us a glimpse of the experiences and learnings brought by the Synod on Synodality.
On the front cover, we feature the vibrant and enthusiastic young Catholics answering the call to participate and share God to others.
This month's issue, Bishop Ambo shares to us his insights on the Synod. On the first part of his article, he reveals to us his hopes for the Church to be renewed in spirit, to be more inclusive to everyone, eliminating the labels that we have put on each other. He also mentions some concerns of the Church, to be highlighted more in his article in the next issue.
As we explore more, we are blessed to witness the journey of Ms. Mariz Umali, of her life as both a Journalist and a Lector. In her article, she shares with us the struggles and victories of fulfilling her duty to serve the people and the Lord. She inspires us with these words, "…that authenticity in conveying news is as essential as being a faithful bearer of Good News." We will witness more of her stories and experiences in the continuation of her article in the next issue.
In our Spiritual Tradition, Mr. Charles John Miñoza inspires us on how their parish, Madonna Del Divino Amore Parish, their faith communities, were strengthened and has become a light to others, as they journey together in faith.
In our Local Church, Sr. Cristina Guevarra encourages us to put down our walls, to willingly sit with our brothers and sisters, to listen to them and share our experiences, in order for us to become a Church who walks together, fulfilling our Christ mission.
In Praying with Scriptures, Fr. Jose Allan Diaz stirs our hearts with the reality of this world we live in, on responding to the people around us, and continuously submitting to God.
Ms. Cory Villafania and Natalya Amelie del Rosario, reminds us to pray the Rosary, to be accompanied by Mama Mary and to draw strength through her unwavering faith, to truly trust the Lord in every season of our lives.
May our hearts be one in Christ, our Lord!