ADVENTURE BOX - BACK ISSUE SEPTEMBER 2021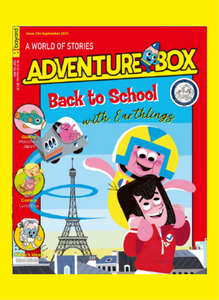 SALE
ALMOST DISASTROUS FIRST DAY BACK. It's only the first day, and already things are going astronomically wrong for a young alien. On a school trip to Earth… Paris, France to be exact! Quel désastre! But not to worry, there's nothing we can't do with the help of new friends
THIS MONTH'S @adventurebox magazine takes the not-so-scenic route through Paris to explore school life and touches on things that all students (french or martian) can relate to.
Age : 7 to 11


AdventureBox, the magazine that gets kids hooked on reading.

Help your child become a reader for life with AdventureBox magazine. Chapter stories, nature, science, games, comics and more: 68 pages of story, discoveries and fun.
In every issue, enjoy :

An exciting 44-page illustrated story, divided into manageable chapters for newly independent readers. Action, suspense, drama, adventure, humor: children will discover different genres and develop their literary taste. Colorful illustrations on every page engage kids' interest and ensure they will enjoy the challenge of reading on their own.

A chat with the creators, to go further and understand more about the author and illustrator creation's process

A Bonus : Nibby explores the story under a different angle

NatureBox with great photographs and fascinating scientific information help children discover the natural world.

Puzzles and games stimulate children's literacy, observation and reasoning skills in a fun way.

A hilarious comic - strip with funny and mischievous characters will take readers on all sorts of escapades.