Catechism Pack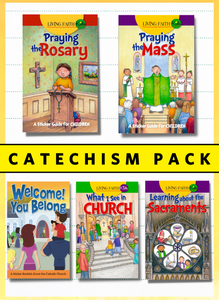 SALE
This set of 5 titles is made to introduce the faith to young learners. Each title has been selected to create a mini-Catechetical program that looks like a syllabus of church topics.
Remember when you were first learned how to count and you would use your fingers to keep track? The Rosary works in the same way. It is a prayer organized in an easy way to remember both the words of the Bible and the most important stories from the life of Jesus. The prayers that make up the Rosary are very simple, and most of the words come right from the Bible. Use the colorful stickers in this booklet to learn the Rosary step by step, and it will serve you as a useful reminder of a devotion that will last a lifetime!
The Mass is a very important celebration because it is a memorial of Jesus' saving death and glorious resurrection. It is a moment you share with your family and members of your parish. In this interactive booklet, you'll learn the many parts of the Mass – prayers, responses, gestures and songs – that together form the source of our Christian life and its highest expression. Plus, there are colorful stickers to help you become an expert in the Order of the Mass!
This colorful sticker booklet is a wonderful way to invite children to learn about the sights and celebrations that are seen in the Catholic Church where we are blessed to share Jesus' welcoming words, "Let the children come to me...for the kingdom of heaven belongs to such as these." A great handout for parish visitors and guests ages 5-10.
A Catholic church is filled with objects, some of them unusual or even strange. When you learn that tall these things have names and help us worship God, you will begin to see that your church – and any Catholic church anywhere in the world – is a home for your faith. Apply colorful stickers as you discover the names and uses of the things we see in Church.
Learning about the Sacraments
When you receive the sacraments, you receive the life of Jesus himself. This book can show you some of the fascinating things about the sacraments – those seven amazing gifts of God's grace. Watch for these "sacrament signs" on each page, so you know what they mean and why they are so important! When you finish each page, you can add a sticker to show how Sacrament-Smart you are!