CHICKADEE - BACK ISSUE JUNE 2021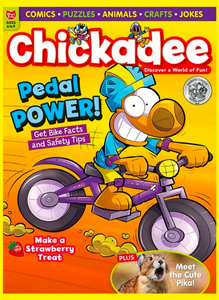 SALE
PEDAL POWER
BACK ISSUE - JUNE 2021
Learn bike facts and safety tips, meet the American pika, and make a strawberry treat! 

The Full-of-Fun, Hands-On Magazine for Children Ages 6 to 9.
Created in 1979, Chickadee satisfies the 6- to 9-year-old's insatiable thirst for knowledge and appetite for humour. Chickadee acknowledges the growing independence of primary-aged children and fosters their curiosity about and connection to the world around them. 
Every month, the Chickadee team creates a package of interactive stories, puzzles, animal features, and science experiments to educate and entertain readers.
---