Children's sticker Booklets Half Set - 10 Titles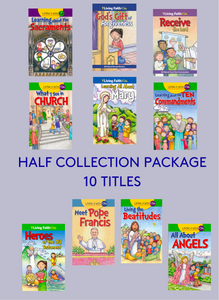 SALE
Get a set of 10 faith formation books for your children!
Captivate young hearts and grow their faith with Living in Faith Kids!
Ideal supplementary activity books for Catechism classes and schools.
The best gift you can give to children especially on occasions like Holy Communion, Christmas, Easter and other Church festivals.
The complete set collection include all those titles :
SACRAMENTS PREPARATION
GOD'S GIFT OR FORGIVENESS - THE PERFECT PRODUT FOR THE PREPARATION FOR THE FIRST COMMUNION
RECEIVE THE LORD - THE IDEAL PRODUCT FOR THE PREPARATION TO THE FIRST COMMUNION
LEARNING ABOUT THE SACRAMENTS : SHOW HOW SACRAMENT-SMART YOU ARE!
HOW TO PRAY
LIVING THE BEATITUDES - LEARN MORE ABOUT THE BEATITUDES
LITURGY AND SYMBOLS
WHAT I SEE IN CHURCH - DISCOVER THE NAMES AND USES OF THE THINGS WE SEE IN CHURCH
SAINTS AND KEY FIGURES
LEARNING ALL ABOUT MARY - LEARN ABOUT MARY, WHO LOVES YOU TOO!
HEROES OF THE OLD TESTAMENT - READ THE STORIES OF THE MOST AMAZING AND INTERESTING HEROES EVER!
MEET POPE FRANCIS - DISCOVER POPE FRANCIS' LIFE
FAITH AND SCRIPTURES
LEARNING ABOUT THE TEN COMMANDMENTS - HOW TO TELL RIGHT FROM WRONG
ALL ABOUT ANGELS - LEARN MORE ABOUT THESE AMAZING AND POWERFUL BEINGS WHO LOVE GOD