CHIRP - BACK ISSUE SEPTEMBER 2021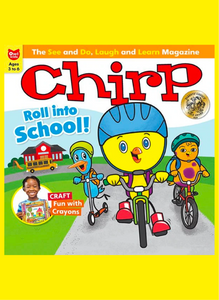 SALE
Sorry, this item is out of stock
September 2021 - ROLL INTO SCHOOL
The SEPTEMBER issue of Chirp will get you excited for SCHOOL! Make cool crayon crafts, cut out a weekly activity planner, and learn all about the feelings that come with trying new things. See you in class!
The See and Do, Laugh and Learn Magazine for Children Ages 3 to 6.
Chirp's innovative package of stories, puzzles, and activities is designed for 3- to 6-year-olds to enjoy on their own and with their parents, grandparents, and loved ones.
Made for little hands and growing minds, the colourful pages, silly jokes, engaging stories, and early-learning activities in Chirp inspire young children to make their first attempts at reading, writing, and creating with age-appropriate content that gives youngsters confidence.