Living with Christ- MAY ISSUE 2023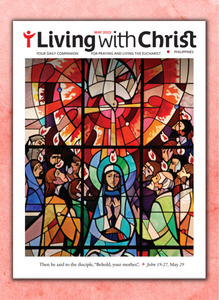 Be filled with the spirit of the Lord!
In our May Issue, Living with Christ features on the cover an illustration of the tongues of fire representing the Holy Spirit for the celebration of the Pentecost.
On the feast day of Our Lady of Fatima, Fr. Alex Castro encourages us to be like the three Portuguese children, who lived in humility, leading them to see Mary and share her message of prayer for the conversion of all sinners.
In Praying with Scriptures, Fr. Jose Allan Diaz reveals to us the joy that comes from Jesus' Ascension, to hold on to the assurance of God's promise, that in His time we will together ascend to His glory.
From the Young Disciples' point of view, Ms. Kaylee Solapco shares her testimony of living according to the will of God, "to be righteous with a sense of compassion", inspiring others to find out God' purpose in their life.
Let us continue to spread the Word of God!