EASTER BASKET - FOR KIDS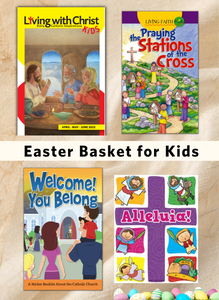 Send joy this Easter with this basket for kids!
Give children a sweet message that lasts with Christ-filled basket stuffers that share the source of our joy, this includes: Bible story book, activity booklets, magnet and more.

Living With Christ Kids - April-May-June 2023 ISSUE
Living With Christ Kids features daily devotions based on the daily Scripture readings from the Catholic Mass. Each quarterly issue helps children 8-12 develop the habit of daily prayer and build their relationship with Jesus and the Church. Living Faith Kids is the daily Scripture-based prayer companion for Catholic children and an invaluable resource for parishes, families and schools.
With this magazine, you can:
Read words from the Bible.

Pray with daily devotions.

Discover, learn, play and love.
Praying the Stations of the Cross - Sticker Booklet

The Stations of the Cross is so powerful a devotion because we put ourselves in the steps of Jesus as he makes his way to Calvary for our sake. Children (4-12) learn about this traditional devotion with this interactive sticker booklet. Helped by a parent, teacher or older sibling, a child learns to pray with Jesus as he makes his saving journey to the cross.
Welcome you Belong - Sticker Booklet

This colorful sticker booklet is a wonderful way to invite children to learn about the sights and celebrations that are seen in the Catholic Church where we are blessed to share Jesus' welcoming words, "Let the children come to me...for the kingdom of heaven belongs to such as these." A great handout for parish visitors and guests ages 5-10.
And one Magnet « Alleluia »