Great Love in Little Ways – Reflections on the Power of Kindness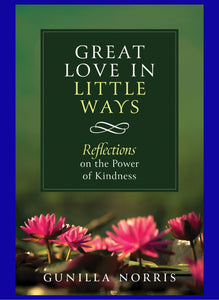 Great Love in Little Ways - is there anything more needed in our world today than kindness? In this little gem of a book, best-selling author and spiritual guide, Gunilla Norris helps us learn to cultivate kindness in all aspects of our daily lives – upon waking to the sunshine, through our work and daily bread, when offering a safe space to a friend.
Great Love in Little Ways is a book to savor and read over again as it broadens our awareness of God's kind and loving presence in today's sometimes harsh and chaotic world.


Author: Gunilla Norris

Type: Books
96 pages, 5.5" x 8.5"