Lenten Set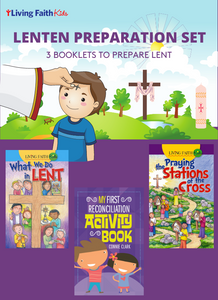 SALE
WHAT WE DO IN LENT?
Lent, we all know, is a time to get ready for Easter. But why does it start with getting ashes on our foreheads? Why can't we eat meat on Fridays during Lent? Should I give up candy in Lent? Knowing what we Catholics do in Lent is important, but it is even more important to know why we do it? Learn about Lent in this booklet, and when you finish each page, mark it with a sticker that shows you understand the what and why of Lent.
Includes games, useful tips and ideas
 PRAYING THE STATIONS OF THE CROSS
The Stations of the Cross is so powerful a devotion because we put ourselves in the steps of Jesus as he makes his way to Calvary for our sake. Children (4-12) learn about this traditional devotion with this interactive sticker booklet. Helped by a parent, teacher or older sibling, a child learns to pray with Jesus as he makes his saving journey to the cross.
Includes games, useful tips and ideas
MY VERY FIRST RECONCILIATION
Help children prepare to receive the sacrament of reconciliation with this engaging, story-based activity book. By following Emily's story, children gain familiar context for God's great gift of forgiveness. As they draw and color pictures, solve puzzles, and read Bible stories, they'll learn kid-sized lessons about big concepts like baptismal grace, original sin, penance, and much more.
My First Reconciliation Activity Book reinforces catechetical teachings on many subjects including:
What's needed for a good confession?

How to go to confession

How to make good decisions (based on the Ten Commandments).
By encouraging children to follow Jesus teaching on love of neighbor, this little book also helps children understand the need for forgiveness, and can foster a lifelong love of the sacrament of reconciliation.