LIVING WITH CHRIST - 3-MONTH DISCOVERY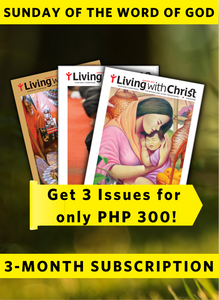 Discover Living With Christ with this 3-Month subscription
As we celebrate the Sunday of the Word of God, let us deeply seek Christ by meditating on His words through our pocket missal, your daily companion in your search for God's truth.
Whether in church or at home, Living with Christ is ready to guide you through prayers and readings of the Mass each day, ready to encourage and console you in hard times, ready to inspire you and nourish your spirit as you go through each day.
Rooted solidly in the Filipino Catholic tradition and attuned to daily life, Living With Christ is the perfect spiritual companion for today's Filipino Catholic.