Living with Christ- AUGUST ISSUE 2023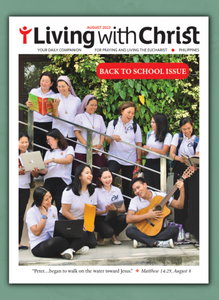 Let us allow Christ to guide us in this life's journey!
This month of August, Living with Christ releases its Back-to-School Issue featuring the teachers of the Assumption College San Lorenzo, harmoniously gathered together.
On the feast day of the Assumption, Fr. Alex Castro invites us to imitate Mary, to strive for holiness even in the ordinary things we do in life.
In the Christian in Daily Life, Ms. Cory Villafania emphasizes the beauty of prayer, which changes our soul, transforming us to be more alive and obedient to the Spirit.
In Young Disciples, Jaeda Isabella Lopez shares her experience of encountering God through the guidance of their parish priest, leading her to become a better person for the glory of God.
May we continue to live by faith!