Living with Christ- DECEMBER ISSUE 2023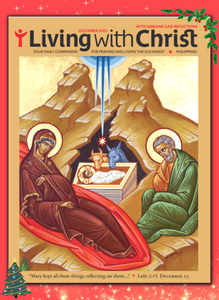 Let us be filled with the Spirit of love!
This month of December, Living with Christ walks with us to witness the great occasion of the Nativity of Jesus Christ, the beginning of our salvation, as depicted in this month's front cover. Let us open our hearts to His wonderful message to each one of us.
This year's Simbang Gabi reflections, Rev. Fr. Alain Manalo guides us through our journey in encountering Jesus Christ, highlighting the Church in Synodality - accompanying each other to be led closer to Christ.
Fr. Aaron Gantioque reveals to us the power of the Lord, who can do even the impossible, who can do miracles for us as He did to our mother, Mary.
In Praying with Scriptures, Fr. Jose Allan Diaz, leads us to the Holy Family, that we may imitate their devotion to God, the one who binds every family.
Together, may we celebrate Christmas holy and joyfully!