Living with Christ- JULY ISSUE 2023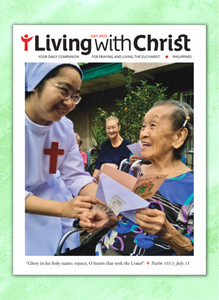 Let us witness the Lord's goodness through the inspiring articles shared in this issue!
This July, we will celebrate the World Day of Grandparents and the Elderly and the Fil-Mission Sunday. On the front cover, Living with Christ features the image of a Camillian Sister serving the sick and the elderly, sharing joy through postcards and letters.
Fr. Alex Castro, AA, reminds us to show our appreciation and respect towards our parents and grandparents, God's instruments, who helped us to be who we are today.
In this Month's Scriptures, Fr. Greg Lustan encourages us to answer God's call to be modern-day healers, to be able to accompany the sick and the dying through our service and prayers.
In Praying with the Scriptures, Fr. Jose Allan Diaz inspires us to have a deep and true relationship with Christ, to understand Him fully and to be able to comprehend that the greatest price we could ever have doesn't lie here on earth but in heaven, with Him in eternal life.
May we continue to love and live like Christ!