Living with Christ- JUNE ISSUE 2023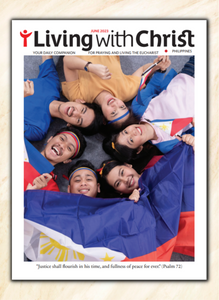 Let us allow the Lord to come into our lives!
This month of June, Living with Christ honors the day of our motherland's Independence, featured on the front cover with the face of freedom.
In the celebration of the Philippine Independence Day, Fr. Alex Castro, AA, reveals to us that love can also be seen and expressed even in politics, for it serves as an opportunity for each of us to serve the common good.
In our Spiritual Tradition, Ms. Carla de Guzman teaches us the language of the Sacred Heart: love and mercy, that although we are all sinners, God has extended Himself to us. So, we must also answer to Jesus' call for us, to show mercy and love to everyone around us.
In our Local Church, Mr. Martin Geron shares with us the story of Saints Peter and Paul, which inspires us to not allow our sins and weaknesses to hinder us, for like these great saints, we can also be used by God for His greater will.
May we continue to walk in the path of Christ!