Living with Christ- SEPTEMBER ISSUE 2023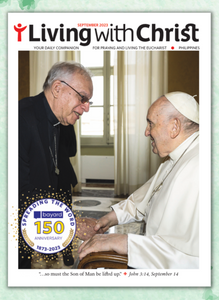 Let us enter this month with a joyful and grateful heart!
Living with Christ releases its special issue for September as Bayard celebrates its 150th Anniversary of publication, of spreading God's Word and nurturing Catholic faith.
Featured at the front cover, Fr. Bernard Holzer, AA (Bayard Philippines' General Manager) meets His Holiness, Pope Francis during the 34th General Chapter of the Augustinians of the Assumption.
This month's articles focus on our obedience to God and to the mission that He wants us to partake in. We are encouraged by Fr. Jose Allan Diaz to be free from bitterness and unforgiveness, to be fully healed. We are also reminded by Ms. Cory Villafania and Ms. Nora Buenaventura to acknowledge and thank all Catechists for sharing the Gospel and the teachings of Christ to all.
In this special anniversary issue, Pope Francis shares with us his message to the Augustinians of the Assumption during its 34th General Chapter in June 2023, held in Rome, Italy, with his reflections on its theme: "The Kingdom of God is at hand", Living and proclaiming the hope of the Gospel.
Bayard Philippines' General Manager, the Assumptionist Brothers and the Bayard team all over the world also shares their experience of mission for the past years and sends their gratitude and support in spreading the Good News.
May we fulfill our mission to proclaim the Word of God!