Living With Christ - SPECIAL APRIL & HOLY WEEK ISSUE 2023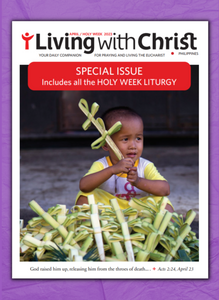 Sorry, this item is out of stock
Let us witness the incomparable love of Christ!

As we journey with Christ this month, let us be inspired by the Holy Week reflections of our beloved Bishop of Digos, Most Rev. Guillermo Afable, D.D. 
Holy Week is a time for us to look closely to Jesus, to understand deeply the love that He alone can provide.
This season, Fr. Jay Lituañas reveals to us that in the midst of our modern-day passion and death, we still can find light and hope through the resurrection of Jesus.
In Praying with Scriptures, Fr. Jose Allan Diaz reminds us of how merciful our God is, that He is always ready to welcome each of us and give us a chance to be reunited with Him.
In Young Disciples, Mrs. Michelle Marie Villafania-Santos shares her experience of losing a loved one, on how she learned to accept and let go. She left an inspiring truth, "that death is not a dead-end but is the gate to Eternal Life, and therefore, it is not to be feared.".
May we see Jesus in our every suffering and may we be able to glorify Him in our lives!