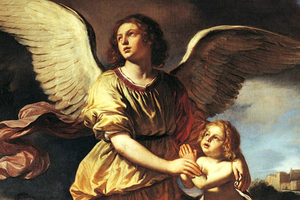 By Ada Escopete

"See that you do not despise one of these little ones; for I tell you that in heaven their angels always behold the face of my Father who is in heaven" (Matthew 18:10).

"Are they not all ministering spirits sent forth to serve, for the sake of those who are to obtain salvation?" (Hebrews 1:14)

The culture in which we live can have a great and deleterious effect on us. Eternal truths  and realities can become obscured, particularly in our time, when the seven deadly sins of pride, avarice,  envy, wrath, sloth, lust and gluttony rule as supreme.

So, we need to remind ourselves of these realities and learn to live them throughout our ordinary moments. God is real. He exists. He loves us and calls us to be with Him. He sent His Son to save us and by His Holy Name — Jesus — we attain salvation and become sons and daughters of the Most High God. We are composite beings, comprised of body and soul, yet there is another realm, the spiritual realm, in which the angels — spirits — live.

God has given each of us a guardian angel to protect us and lead us to Him. The first step for those in a state of Sanctifying Grace to become more attuned to these spiritual realities is to practice humility.