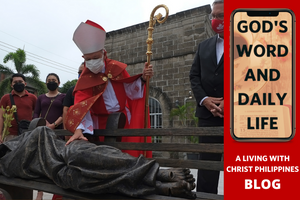 By Fr. Bernard Holzer, aa
We are in the Holy Week!
Do we follow Jesus in his journey today?
There are so many people who are crucified today… Are we like the crowd who cried out: "Crucify him!"
Cardinal Jose Advincula, reflecting on the Gospel of Palm Sunday, lamented that many people prefer money, power and fame over their faith, truth and justice. According to him, "it is sad to admit that it seems that the shout of people against Jesus is louder than those who accept him".
Before the Mass, the Cardinal led the blessing and unveiling of the "Homeless Jesus" statue installed at the patio of the cathedral. The sculpture by Canadian artist Timothy Schmalz illustrates Jesus as a person in need, alternately sick, hungry, naked, a stranger or without a shelter.
Jesus Christ is crucified again! Let us open our eyes and our hearts!
To rise up with him is to show love and concern for the poor and the homeless!