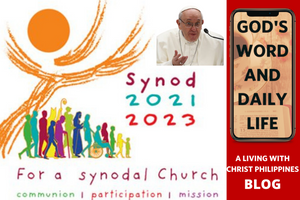 By Fr. Bernard Holzer, aa 
Two major events are taking place this month.
COP26 which focused on climate change and the decisions to be taken to leave our children and grandchildren a habitable and prosperous land, and the preparation of the Synod on Synodality.
These two events are linked. They provoke us to change, to a conversion, to another way of approaching living together in a responsible way in society and in the Church, to prepare for the future: we cannot get it by on our own. We need each other.
Election time is coming to the Philippines. It could be a time conducive to this reflection, dialogue and mobilization. We can prepare for this by rereading – why not with others - the last two encyclicals of Pope Francis: "Laudato Si" and "Fratelli Tutti".
"Once more, I appeal for a renewed appreciation of politics as "a lofty vocation and one of the highest forms of charity, inasmuch as it seeks the common good." ("Fratelli Tutti", 180)
"Approaching, speaking, listening, looking at, coming to know and understand one another, and to find common ground: all these things are summed up in the one word "dialogue".
If we want to encounter and help one another, we have to dialogue." ("Fratelli Tutti", 198)
We are also called to pray for these intentions.