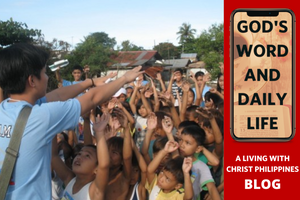 Every month of September, the Philippine Catholic Church celebrates the National Catechetical Month. This is in relation with the feast of St. Lorenzo Ruiz, a catechist and the first martyr-saint in the country.
Every year, the Episcopal Commission on Catechesis and Catholic Education (ECCCE) would release the theme and official poster which serves as reference for the celebration of catechists in the national and arch/diocesan/prelature level.
Catechesis is nothing other than the process of transmitting the Gospel, as the Christian community has received it, understands it, celebrates it, lives it and communicates it in many ways."  (General Directory for Catechesis #105)

Jesus empowered the Church to continue His mission when He said, "Full authority has been given to me both in heaven and on earth; go, therefore and make disciples of all the nations. Baptize them in the name of the Father, and of the Son, and of the Holy Spirit. Teach them to carry out everything I have commanded you. And know that I am with you always, until the end of time. " (Mt. 28:18-20)
This great commission has been handed to women and men, whom God has called, to proclaim the Good News. This ministry of teaching and forming has traditionally been referred to as catechesis. Let us pray to for our Catechists!