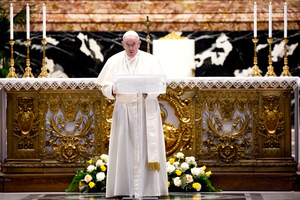 By Father Bernard Holzer, aa
Last Easter Sunday, Pope Francis sent us a Video Message for the 500th  anniversary of the Evangelization of the Philippines.
You could watch it on http://www.vatican.va/content/francesco/en/messages/pont-messages/2021/documents/papa-francesco_2021
Pope Francis is encouraging us to be with the Lord and to give what was given to us: the Gospel, the Good news for our time! Let's listen to him.
"Dear friends: I recall my visit to your country with great fondness. I cannot forget our final meeting, with almost seven million people present. You are generous and you know how to celebrate the feast of faith. Never lose those qualities, even in the midst of difficulties. In those massive gatherings, those who spoke about receiving the gift of faith said they wanted to continue sharing it and proclaiming it to everyone.
Do not be afraid; you are not alone in this mission. Two great saints of your land accompany you: Saint Pedro Calungsod and Saint Lorenzo Ruiz. Two holy catechists who knew how to give without cost what they had received without cost: life and faith in Jesus.
Keep moving forward; the Pope is always at your side. May Jesus bless you and bless all the Filipino people. May the Holy Virgin watch over you and the Santo Niño be always with you. I ask you, please, to remember to pray for me. Thank you very much."