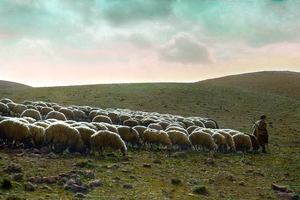 During this last week of the liturgical year, the Church invites us to meditate on the last book of the Bible: the Book of Revelation. 
It is a message of hope and consolation: Christ is the victor of all iniquities even death.
Let us take the time to reexamine the
liturgical
 year that we have just spent - a year so special and so difficult, a year sometimes cruel with the death of loved ones that we could not accompany as we wished so.
Let us renew our trust in God by praying the Song of the Lamb.
                                                            The Psalm of the Lamb (Revelation 4: 4)
"Great and wonderful are your works,
Lord God almighty.
Just and true are your ways,
O king of the nations.
Who will not fear you, Lord,
or glorify your name?
For you alone are holy.
All the nations will come
and worship before you,
for your righteous acts have been revealed."
Let us pray
O God,
How difficult was this his year!
It revealed our strengths and weaknesses,
our faith and our lack of faith.
This year we put it in your hands:
sanctify it, cleanse what needs to be cleaned.
Increase our faith and our trust in you.
Send us your Spirit to build a new world,
more fraternal and more humane.
Give us to become builders of peace and hope.
Through Jesus Christ, your Son,
who lives and reigns with you and the Holy Spirit,
now and forever. Amen.