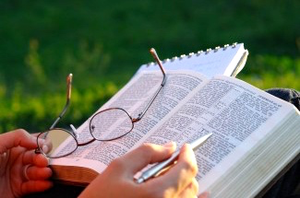 By Ada Escopete
God's Word has powerful transforming impact on the national life. In world history, as well as in our own, the Holy Bible is regarded as a powerful book containing timeless principles that when heeded and obeyed can change a nation for the better. And after having tried so many alternative methods in the past, the call for us now is to heed God's Word, to follow its statutes and obey its precepts if we want to see true development and lasting change in our lives as a people and as a country.
The Philippine Bible Society has endeavored to introduce people to the Bible's transforming power through all means possible. One such means is the celebration of the National Bible Month backed up by Presidential Proclamation No. 124 declared by incumbent President Rodrigo Duterte last January 5, 2017.
Every year, the nation commemorates and celebrates the importance of the Bible in nation building. Churches have come together through parades, motorcades, and rallies proclaiming the yearly themes of the Bible celebration. Sermons and homilies have focused on the Bible's role in changing the people's lives during the National Bible Sunday. Streamers and posters called attention to this significant event, as well as Scriptures that are distributed on the streets and other public places.
Let us pray that we may be strengthen by the Word of God through Scriptures.