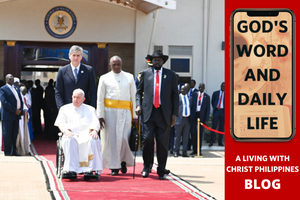 By Fr. Bernard Holzer, aa
Pope Francis' visit to the Democratic Republic of Congo and his ecumenical pilgrimage for peace in South Sudan are a powerful sign for all Christians: let us not forget Africa, this great dynamic and courageous continent, ravaged by neo-colonial exploitation and wars.
The Pope's gestures and words were strong. Let us be challenged by them.
"It is a tragedy that these lands, and more generally the whole African continent, continue to endure various forms of exploitation… "The poison of greed has smeared its diamonds with blood."
"We cannot grow accustomed to the bloodshed that has marked this country for decades, causing millions of deaths," Pope Francis said.
"Take your hands-off Africa! Stop suffocating Africa: it is not a mine to be exploited nor a land to be plundered."
"Never lose hope. And lose no opportunity to build peace. May hope and peace dwell among you. May hope and peace dwell in South Sudan."
Let's take the time this week to read the words of Pope Francis during his trip to Africa on the Vatican website. Let us also meet a brother or sister from Africa who lives with us to testify to them of our fraternal friendship. Let us also pray for this continent.