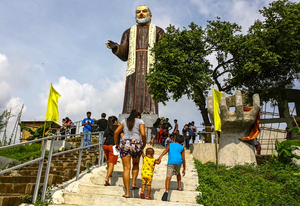 On September 23, the Catholic Church celebrate the feast of Saint Padre Pio. In the Philippines, Saint Padre Pio is known to be a great miracle worker. Many could testify how Padre Pio interceded in their prayers.
The amazing miracles associated with Padre Pio are usually seen with the great saints of the Middle Ages: levitation, bilocation, heavenly visions, and the stigmata -- the bloody Five Wounds of Christ. But Pio of Pietrelcina is most definitely a 20th century saint. Born in 1887 as Francesco Forgione, he died in 1968 and was canonized by Pope John Paul II in 2002.
Young Francesco grew up in a hardworking farming community. His happy childhood consisted of daily chores and the simple joys of a loving family. Perhaps as a sign of his future calling, Frencesco looked after his family's flock of sheep at the age of 10. He knew as a child that God was calling him to the priesthood and he entered the Franciscan Capuchin novitiate at Morcone. At first vows, he took the name Pio to honor Pope St. Pius I. With God's grace, he completed his studies and was ordained a priest in 1910 at the age of 23.
As a priest, Padre Pio became known as a master in spiritual direction, and crowds of people would visit from miles away to go to confession and hear his wise counsel. He preached holiness and perfection of spirit. It was on September 20, 1918 that the wounds of Jesus' crucifixion began to appear on his hands, feet and side while he was hearing confessions. These bleeding wounds were painful and would continue for the next fifty years until the end of his life. Padre Pio preferred to suffer silently but word got out about the stigmata and that drew even larger crowds of people who were eager to hear this holy man and be in his presence.
Padre Pio's whole life was filled with suffering but that did not prevent him from carrying out his ministry of preaching and spiritual direction. In his hometown of San Giovanni Rotondo, he founded a hospital and medical research center, the Casa Sollievo della Sofferenza (Home for the Relief of the Suffering), whose adoption of modern technology and practices has made it one of the most efficient hospitals in Europe. The Casa serves an average of 57,000 inpatients a year.
May the life of Saint Padre Pio inspire us all the time. Saint Padre Pio, pray for us!