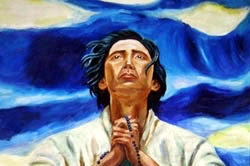 By Mel Jasmin
September 28 is a very special day to all Filipino Catholics. It is the feast day of the first Filipino saint who is a martyr!
Lorenzo Ruiz was born in Binondo, Manila on November 28, 1594.  His father was Chinese and his mother Filipino.  During his youth, Lorenzo was educated by the Dominican Fathers and from them he learned the fundamentals of faith.  He became the errand boy of the friars and was an altar boy at Binondo convent.  As he grew older, he was employed as their "escribano" because of his skillful hand.
Lorenzo is a devout Catholic and was a great devotee of the Blessed Virgin. He was blessed with two sons and a daughter and had a happy and harmonious married life.  Things changed, however, when he found himself being accused of a crime he did not commit after having an argument with a Spaniard. Fearing for his life, he sought to escape and when he learned that the Dominicans were preparing to embark on a mission to Japan, he joined the group.  He bade goodbye to his loved ones and left the Philippines with a heavy heart.
He is recognized as the first Filipino Saint and Martyr. Anyone can be a saint. Saint Lorenzo Ruiz or more known to Filipinos as San Lorenzo Ruiz is an ordinary man.  Just like us, he simply wants to have a happy, peaceful, harmonious life.  However, his circumstances changed and he was thrust into a situation so complicated.   Yet, even if he didn't want what was happening in his life, Saint Lorenzo Ruiz faced it with unwavering courage and unyielding faith and trust in God.  In the end, he willingly gave his life to a God who is truly deserving of all Saint Lorenzo Ruiz can offer.
Saint Lorenzo Ruiz encourages us to never lose faith and to always trust in God no matter what.  Surely, God was with him during those terrible last days and though his body was suffering, his soul found happiness, peace and assurance that his suffering was not in vain.