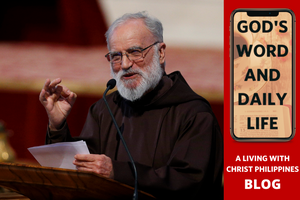 By Fr. Bernard Holzer, aa
Is the Lenten Season a special moment for me?
How do I live out this time of love: love of God, of others, and of myself?
I would like to suggest a way of reflection and conversion.
Please, read and meditate on the five Lenten sermons of Cardinal Cantalamessa. He is preaching the Lenten retreat of Pope Francis and of the Roman Curia.
His first sermon focused on the Holy Spirit at the heart of all the life of the Church, the real actor of our human and spiritual life. He is the actor of all real conversion of the Church. He will be the guide of the coming Synod.
See his homily in the link:
http://www.cantalamessa.org/?p=4059&lang=en
Listen and meditate an extract of his meditation. It's directed to each of us:
"We are by nature inclined to be hard on others and soft on ourselves, when we should set ourselves up to do the exact opposite: strict with ourselves, soft on others. This proposal, if we take it seriously, would be enough on its own to sanctify our Lent. It would exempt us from any other type of fasting and would dispose us to work more fruitfully and serenely in all areas of the life of the Church.
An excellent exercise in this direction is to be honest, in the court of one's own heart, with the person with whom one disagrees. When I realize that I am accusing someone inside, I have to be careful not to immediately take my side. I need to stop rehashing my reasons like someone chewing gum, and instead try to put myself in the other person's shoes to understand their reasons and what they would have to say to me as well."
Let us try, and pray for each other. Blessed and joyful Lenten Season!