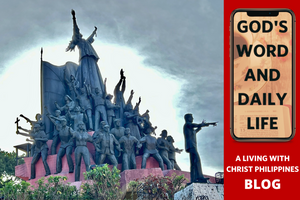 By Mike Punzal
The 1986 EDSA People Power Revolution gathered millions of Filipinos from all walks of life to march along Epifanio de los Santos Avenue (EDSA), the main artery of Metro Manila, to end the dictatorship of President Ferdinand E. Marcos and begin a new era marked by true freedom and democracy. This spirit of the movement was not confined to Manila; it manifested through non-violent demonstrations staged in different cities nationwide—it was a revolution marked by its peaceful means, led by a nation united to reclaim liberty.
The events of February 25, 1986, altered the course of our nation's history; it showcased to the world the remarkable resolve of the Filipino people. It heralded an era of peace. Over the years, we have continued to remember this momentous occasion by honoring the sacrifices of all those who fought the dictatorship.
In 1985, President Marcos Sr. was being pressured by the public and his US allies to declare a snap election. A group of military officials had also organized a group a few years prior and just went public to call for reforms in the military. In secret, they were planning a coup for the end of the year. However, Marcos Sr. surprised everyone when he announced on US television that he was declaring snap elections and that he would be running for office. Just two months after an organization formed to call for her Presidency, Cory Aquino – widow of the assassinated Ninoy Aquino – received a petition with more than a million signatures drafting her to run against Marcos. 
37 years after the People Power, we are once again confronted with so many difficulties and challenges. How do we respond to these as a people? Have kept the spirit of EDSA alive in the way we chose our leaders and support our government?