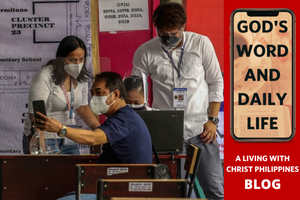 By Father Bernard Holzer, aa
 "Let us again turn to our Blessed Mother and ask her intercession to help us vote what God desires for us," is a part of the letter signed by Cardinal Jose Advincula, Archbishop of Manila.
With the bishops of the Ecclesiastical Province of Manila, he urged Catholics to unite spiritually to pray the rosary for next month's elections.
The bishops also encouraged the electorate to vote for the candidates who will promote the common good, especially the poor and marginalized.
They also called for prayers for the Commission on Elections (Comelec) that they may accomplish their mission to conduct an efficient, fair and honest election.
It's important to pray, but also to take time to read the programs of the candidates, to know the candidates and their supporters and to discern with the grace of the Holy Spirit.
Going to vote is to choose life, truth, justice and peace. It's a way to worship the Lord and to honor Him! Be a disciple of Jesus and of his Beatitudes!