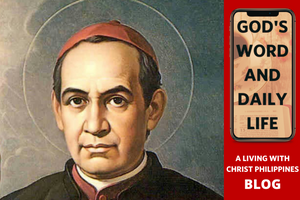 By Rems Noquiao
On October 24, we celebrate the feast of St. Anthony Mary Claret, founder of the Missionary Sons of the Immaculate Heart of Mary, also known as the Claretians. St. Anthony was a committed evangelist whose zeal for sharing the Gospel continues to inspire the faithful to this day.
Born in Spain in 1807, Anthony Claret was a man of many talents. Following in the footsteps of his father, he worked as a weaver for a time, and also mastered the skill of printing. In addition to his practical skills, Anthony also was driven by a keen intellectual curiosity, becoming fluent in Latin. A deeply spiritual man, Anthony next pursued the priesthood and was ordained in 1835.
Anthony Mary Claret to follow and imitate Jesus Christ always in prayer, work and suffering, and to open himself to the action of the Holy Spirit, who inspired his mission of evangelizing the poor." As archbishop, he accompanied many people when he was sent into exile during the Spanish Revolution of 1868. Little did he know that he would never return, passing away at a Cistercian monastery in France in 1870.
Like St. Claret, how willing are we to be missionaries to the poor and the marginalized? Let us pray:
St. Anthony Mary Claret, you established your religious order the Congregation of the Missionary Sons of the Immaculate Heart of Mary, in order to bring others into the good works you had already begun. Please continue to bring my prayers before God!