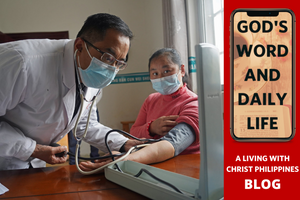 By Rems Noquiao 
October 18th is the Feast of Saint Luke, the Evangelist.

Saint Luke is one of the Four Evangelists, the four traditionally ascribed authors of the canonical gospels. The Early Church Fathers ascribed to him authorship of both the Gospel of Luke and the Acts of the Apostles. He has been identified with St. Paul's "Luke, the beloved physician". We know few other facts about Luke's life from Scripture and from early Church historians.

It is believed that Luke was born a Greek and a Gentile. In Colossians 10-14 speaks of those friends who are with him. He first mentions all those "of the circumcision" -- in other words, Jews -- and he does not include Luke in this group. Luke's gospel shows special sensitivity to evangelizing Gentiles.

It is only in his gospel that we hear the parable of the Good Samaritan, that we hear Jesus praising the faith of Gentiles such as the widow of Zarephath and Naaman the Syrian (Luke 4:25-27), and that we hear the story of the one grateful leper who is a Samaritan (Luke 17:11-19).  According to the early Church historian Eusebius Luke was born at Antioch in Syria.
The focus of Saint Luke makes him an important figure in including the outcasts in Jesus' time and today. How do we treat the outcasts today? They may not be Samaritans or lepers. But who are our outcasts? Let us pray the prayer for inclusion:
Lord, give us new strength so that we can build places of belonging: To create a community for all to share their gifts, to know that each of us is loved, to help us to see the light of Christ in all that we serve. Let us remember that each of us is loved, each of us is willed and each of us is necessary. Amen.