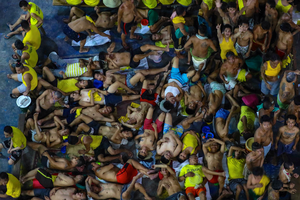 by Ada Escopete
A New York Times article described conditions in Manila City Jail: "The inmates were cupped into each other, limbs draped over a neighbor's waist or knee, feet tucked against someone else's head, too tightly packed to toss and turn in the sweltering heat."
With the perceived inhumane reality in Philippine prisons, the Catholic Church has been active in providing inmates with better conditions.
The Philippine Jesuit Prison Service Foundation (PJPS) has been advocating a more humane approach to the rehabilitation of not just the incarcerated individuals but also their families.
Since its founding in 1994, the group has worked with the Philippine Bureau of Corrections to provide programs to alleviate inmates' living conditions. The group also provides livelihoods, medical assistance and scholarships to children of prisoners.
 Executive director and Jesuit Father Eli Lumbo said doing prison ministry is a full-time job where one cannot easily rest due to a plethora of church work.
 "Each time I enter the prison camp, I do not know what to expect. After all, I minister to more than 20,000 inmates in the National Penitentiary ... Majority of them come from poor families and a good number have not had education or a good education," Father Lumbo wrote in a 2017 article of the PJPS.
 Father Lumbo also said that the Church's role in prison ministry is not to judge but to give accompaniment and spiritual direction to inmates.
 "I would not begrudge them their choices. I will not make the prejudices of our society the basis of how I deal with supposed criminals. As a priest, I am invited to enter the world of the convicted felon," Father Lumbo added.
Visiting the prisoners is one of the corporal works of mercy. When I feed the hungry or give alms to the poor, I always have the impression that I am doing something for my neighbor. It is I who give — my neighbor merely receives.
But after an experience last month, my perspective has changed. The experience did not only change the prisoners. It also left a mark on the very person who visited.
More than the willingness to help a client, I was confronted by my own sins. I was reminded of my own imperfections and weaknesses. Yet there I was — a knight in shining armor for a client's cause.
I saw Christ in prisons. No matter how dirty and foul-smelling — the Emmanuel — the God with us was there. So, I realized, I did not bring Christ in prisons. He was already there with the inmates waiting for a visit, waiting to be fed and to be consoled.