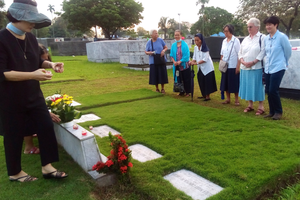 By Father Bernard Holzer, aa
During the month of November, the Church invites us to look far, to take root with the Lord's promises to keep hope. The Church also invites us to remember all those who have marked us and inspired our lives. She invites us to pray for them and with them: May they rest in peace and bring us peace!
Let us reread the vision of St. John to be inspired by it.
From the Book of Revelation 7: 9, 14, 17
"After this I had a vision of a great multitude, which no one could count, from every nation, race, people, and tongue. They stood before the throne and before the Lamb, wearing white robes and holding palm branches in their hands (…) These are the ones who have survived the time of great distress; they have washed their robes and made them white in the blood of the Lamb (…) The Lamb who is in the center of the throne will shepherd them and lead them to springs of life-giving water, and God will wipe away every tear from their eyes."
In this vast humanity, each of us remains unique. There is no anonymity, God calls each of us by his name. This is enough to support our hope.
Let us pray :
Lord, I thank you for my family, for my parents, for my friends, my formators, all those who have allowed me to grow, to open my heart, to understand the world, for those who have encouraged me and led by example, for those who have helped me to know you and to live your Good News. Keep them close to you, bless them, and welcome them into your Kingdom. Blessed are you, Lord. Teach me to love and to be generous!