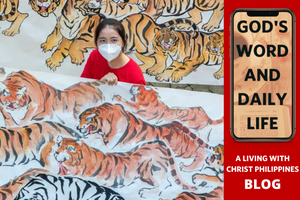 By Bernard Holzer, aa
This greatest celebration of the year for millions of Chinese, Vietnamese and other Asian peoples, is an occasion to pray for peace and harmony in the Asian continent.
We pray especially for the people of Myanmar on the1st anniversary of the military coup. We pray for the dead, the hundreds of thousands of displaced families, the people without access to basic services, those detained or tried, including the hundreds sentenced to death.
 It's a time for family and friends, a time to rejoice, to give thanks and to exchange wishes and gifts. A time to love.
 Let us find time to meditate on the Letter of Saint Paul to the Philippians (4: 4-8), the Second Reading of the Mass on the 1st day of the Lunar New Year: 
"Rejoice in the Lord always. I will say it again: Rejoice! Let your gentleness be evident to all. The Lord is near. Do not be anxious about anything, but in every situation, by prayer and petition, with thanksgiving, present your requests to God. And the peace of God, which transcends all understanding, will guard your hearts and your minds in Christ Jesus. Finally, brothers and sisters, whatever is true, whatever is noble, whatever is right, whatever is pure, whatever is lovely, whatever is admirable—if anything is excellent or praiseworthy—think about such things." 
And let us pray:
"Merciful and compassionate God, on the first day of the Lunar New Year, we give you thanks and praise. Grant that all of us will in this year grow in peace, health, and holiness so that we can enjoy your abundant blessings. We ask this through Christ our Lord."