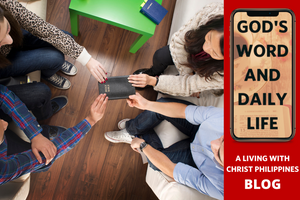 By Mel Jasmin
On January 30, we celebrate the National Bible Sunday. Let us reflect on the relevance of God's Word in our life.
The Bible stands there and says what it says and I have to deal with it. If I get my priorities out of whack I can try to manipulate what it says to suit my ears but cherry picking Greek glosses and lexicons or by coming up with some obscure interpretation. But if I am humble enough to let God's Word change me rather than me change it I will experience something powerful in its study. It is like getting a letter from a friend about a problem. You can't argue back with a letter. You have to take it all in first and read what is there, even re-read it.
Because the text is living, breathing, and sharp (Heb 4:12, 2 Tim 3:16) and because my life isn't static, the Bible often encounters me at different times in life in different ways that it ever has before. I certainly read the Gospel of John differently now than when I was 13. Knowing the themes, the signs, the theology, purpose, and where John is taking the reader the text has become so much richer for me than it used to be and things now seem obvious that were buried for the 13-year-old version of myself. I love the richness that brings to the text as the words on the page are the same but the conversation changes as our maturity and readiness to hear what it is saying changes.
We are looking back on what many looked forward to and so we take much for granted. 1 Peter 1:12 tells us that the Gospel that has been revealed to us was concealed even from the angels much less those who went before the church and ministry of Christ. So there is much to be appreciated about being the recipients of the complete message of God/Christ through the Gospels and letters of the New Testament but also through the Old Testament (more on that another time). This gives us a privileged perspective of faith resulting in great responsibility. For instance, when Mary and Martha are upset with Jesus for not getting to Bethany to heal Lazarus any faster we know he is going to raise him from the dead. They don't. That doesn't mean we don't have any faith struggles because our picture of God can be more informed than those who just had this piece or that. But it is still a blessing nevertheless!