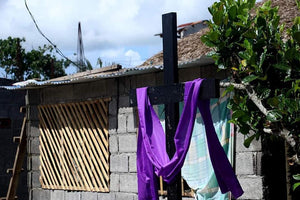 Living with Christ in time of pandemic:
how to prepare for Holy Week in our homes

by Fr. Bernard Holzer, aa
An introduction
 
Let us begin by setting up in our home a space for meditation and prayer, where we can be alone or meet regularly with the whole family.
We could place on a table a cross, the bible, a globe, one or more candles, and photos of those we love and with whom we want to be close with during this Holy Week.
We can play some liturgical music or watch some videos about the faith during the days of the Holy Week.
We can also inquire about the celebrations aired online in our own parish or at St. Peter's Basilica in Rome.
During one of the days of the week, we can also attend an online retreat.
We could hang a palm on the door of our house to express our solidarity with our brothers and sisters who celebrate the Passion of the Lord.
 
***
Passion Sunday of the Lord (Palm Sunday)
 
In our dedicated space for meditation and prayer, let us place a palm or a tree branch.
Then, let us slowly read the Passion of the Lord, with participation of the entire household, if possible. (Go to pages 75 to 86 of your Living with Christ April-Holy Week edition 2020 - Click the link to download for free Living With Christ Holy Week Issue : https://tinyurl.com/LWCBP).
Let us pause reading for moments of silence during which we can also share what the Lord inspires us at that time.
If we are with children or the young, let us pay attention to the different characters presented in this story.
Let us read the meditation of Bishop Ambo David (on page 68).
Lastly, let us pray for all those who are suffering today from the corona virus pandemic and for all those who are dedicated to save lives. We name them one by one.
 
From Monday to Holy Wednesday
 
Let us read the meditations of Pope Francis shared during his morning Mass celebrated at Casa Santa Marta in Rome (click the link www.vatican.news).
Let us then prepare every day by reading the Gospel on pages 90-92, 96-97 and 101.
During these three days, let us also pray to God by saying the Litany of Supplication recited by Pope Francis himself during  the Urbi and Orbi blessing (to the City and to the World).
Let us now pray for our families, our friends, those we miss the most, and with whom we are in communion with.
 
***
 
Holy Thursday - in memory of the Lord's Supper
 
Let us prepare a good meal, if possible, with bread and wine.
We take what we prepared joyfully together, sharing happy memories. Let us share the desire to be together around our table.
At the end of our meal, let us read the Gospel of the Day (on pages 101 and 102).
Why don't we do the gesture of Jesus again, the dad or father washing the feet of his wife and children?
Let us read the meditation of Bishop Ambo David (on page 104).
Let us pray especially for priests whose anniversary is today.
 
***
 
Good Friday
 
Let us follow the Way of the Cross in communion with all those who are "crucified" today.
Let us accept our own weaknesses and be reminded that Jesus' death fully assumed our sins.
Let us reread the Passion of Jesus according to St. John (on pages 121 to 130).
Let us also listen to St. Matthew Passion by German composer Johann Sebastian Bach.
Let us read the meditation of Bishop Ambo David (on page 114).
We pray the great litany of the Church on this very Holy Day (pages 130 to 135).
In doing so, let us include the intention of Pope Francis for the victims of the coronavirus.
 
 
Holy Saturday
 
Traditionally today is a Day of Silence, of waiting for the resurrection.
In the evening, let us meet again.
Let us light a big candle as sign of the presence of the Risen Jesus among us.
Let us proclaim the proclamation of Easter (the Exultet).
Let us read the Gospel of Resurrection (on pages167-168).
Let us also read one or more readings of the Easter Vigil (on pages 145 to 164).
Let us readthe meditation or reflection of Bishop Ambo David (on page 136).
Together, let us sing the "Alleluia"!
 
 
Easter Sunday
 
We play a happy or glorious music in the house, with a bouquet of flowers, and why not paint eggs with your family members?
Let us prepare a sumptuous meal: it is the feast of the Resurrection of the Lord!
Let us share our wishes and dreams to one another.
Let us read one of the Gospels of the Resurrection (on pages 183 or 184 to 185).
Let us read the meditation or reflection of Bishop Ambo David (on page 177).

Finally, let us participate in the Angelus of Pope Francis in Rome (6:00 pm Manila time).
 
Let us rejoice, for Christ is risen! Alleluia! Alleluia!
 
 
Our Assumptionist communities are praying for you.
Sincerely,
Fr. Bernard Holzer, a. a.