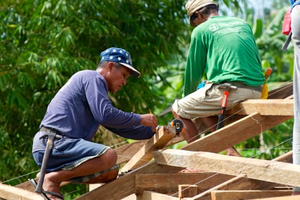 By Father Bernard Holzer, aa
May starts with Labor Day!
In this time of pandemic, it's a moment to reflect on a reality.
Let's take some minutes to refocus on our life.
Work is an essential pillar of spiritual life.
That's the great lesson of the monks. Anthony the Great, the first of the fathers of the desert and father of the monks asked God: "How can we be saved?"
And God answered him: "Ora and Labora" (Pray and work), which became the motto of the Benedictines.
Work allows us to live, to help those in need, it also raises the soul because it gives meaning to life. Giving someone work is allowing them to live and grow.
"Work should be the setting for this rich personal growth where many aspects of life enter into play: creativity, planning for the future, developing our talents, living out our values, relating to others, giving glory to God." - Pope Francis in "Laudato Si"
How do I consider the work I do?
Does it allow me to live and give life? Is it flourishing?
What do I need to change?