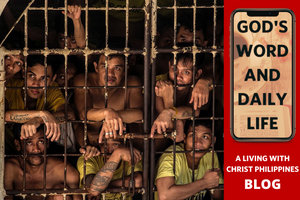 By Mel Jasmin
On October 24, the Catholic Church in the Philippines commemorates Prison Awareness Sunday, together with World Mission Sunday.
The Catholic Church in the Philippines is set to mark Prison Awareness Week on the last week of October to encourage the faithful to remember and pray for all the inmates in the country.
 
The Catholic Bishops' Conference of the Philippines – Episcopal Commission on the Laity encourages the faithful to pray for all prisoners especially at this time of crisis.
 
"Prison Awareness Week seeks to remind us that we have brothers and sisters who are in jail. As Jesus said, 'I was in prison and you visited Me.' Let us look at them as our brothers and sisters whom Jesus loves. At this time of pandemic, it has become more difficult for them with their cramped quarters," said CBCP-ECL chairman and Manila Archdiocese Apostolic Administrator Bishop Broderick S. Pabillo over Radio Veritas.
 
"It is important to decongest our prison cells. Keep on praying for our inmates," he said. The Church leader, likewise, encouraged the faithful to send help to the inmates like food, medicines, and hygiene kits.
 
"Let us also pray for the speedy resolution of their cases. Many of them are already eligible for parole. Let us always pray for them and make them feel that they are always remembered," Pabillo said.
Our brothers and sisters in prisons are a part of our marginalized sector. This Sunday, we are called to remember them and by remembering we called to care and to love them. They are still part of the Catholic Church.