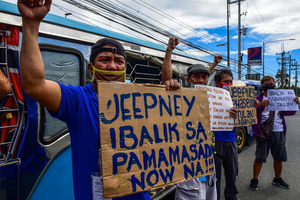 By Mel Jasmin
Mass unemployment is a problem during this year's Feast of Saint Joseph the Worker. Covid-19 has deprived millions of Filipinos of their jobs.
Citing the Holy Family's escape to Egypt, devotional writer Father Donald Calloway 
said St. Joseph is "very empathetic" towards those suffering unemployment.
"He himself at some point would have been unemployed in the Flight to Egypt," Father Calloway said. "They had to pack up everything and go to a foreign country with nothing. They didn't plan on that."
Calloway, author of the book "Consecration to St. Joseph: The Wonders of Our Spiritual Father," is an US-based priest of the Marian Fathers of the Immaculate Conception.
He suggested that St. Joseph "at some point was surely quite concerned: how is he going to find work in a foreign country, not knowing the language, not knowing the people?"
In March this year, government sources there are approximately 4.5 million Filipinos who are jobless. Many others are working from home under coronavirus travel restrictions, while countless workers face newly dangerous workplaces where they may be at risk of contracting the coronavirus and taking it home to their families.
Father Sinclair Oubre, a labor advocate, similarly thought of the Flight into Egypt as a period of joblessness for St. Joseph—and also a period that showed an example of virtues.
"He remains focused: stay open, continue to struggle, do not get broken down. He was able to build up a livelihood for him and his family," said Oubre. "For those who are unemployed, St. Joseph gives us a model of not allowing the difficulties of life to crush one's spirit, but rather trusting in God's provide
May our jobless brothers and sisters find consolation in Saint Joseph the Worker. Saint Joseph, pray for us!