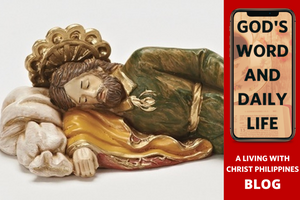 By Mel Jasmin
On March 19, Saturday, we will celebrate the Feast of Saint Joseph as Spouse of the Blessed Virgin Mary. Saint Joseph was declared the Patron of the Universal Church as well as the patron of workers and carpenters.
What can we learn from the life of Saint Joseph, who was not even quoted by the Bible?
Joseph's life offers us a magnificent portrayal of the grace of God as He came to our rescue in the Person of His Son, Jesus. So many come to Him, like Joseph's guilty brothers, feeling the distance and fearing the worst from God, only to have Him demonstrate incredible generosity and mercy. Instead of being blamed, we are forgiven. Instead of feeling guilty, we are freed. And instead of experiencing punishment, which we certainly deserve, we are seated at His table and served more than we can ever take in.
For some, it's too unreal. So, we desperately plead our case, only to have Him speak kindly to us—promising us peace in our own language. We then try to fend off His anger by bargaining with Him, thinking our hard work and sincere efforts will pay Him back for all those evil past deeds we're guilty of. But to our astonishment, He never even considered our attempts important enough to mention. What we had in mind was earning just enough to silence our guilt, but what He had in mind was overwhelming us with such an abundance we'd realize we can never, ever repay.