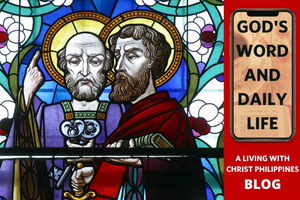 By Jen Avisado
June 29 is the combined celebration of Saints Peter and Paul, both apostles and martyrs. 
The Body of Christ, the Church, is a great structure, with Jesus as the keystone, the fellowship of believers as living stones (1 Pt 2:5), and the apostles with their preaching and teaching as the firm and solid foundation (see Eph 2:20). Of the apostles, Peter and Paul stand above the rest, the two greatest builders of the foundation.
Peter is foremost in confessing the faith, the one who established the early Church from the remnant of Israel; while Paul is the outstanding preacher of the faith, the master and teacher of the Gentiles. Each of them in a different way gathered together the one family of Christ (Roman Missal, 740).
Both Peter and Paul are considered apostles, Peter because he was called by Jesus at the Sea of Galilee (Mt 4:18-20; Mk 1:16-18; Lk 5:10) and commissioned with the keys to the kingdom (Mt 16:19) and as the shepherd of the sheep (Jn 21:15-17); and Paul because he was called by Jesus on the road to Damascus (Acts 9:4-6) and commissioned "to be an apostle and set apart to proclaim the gospel" (Rom 1:1). Peter is known as the "Prince of Apostles" and Paul is known as the "Apostle to the Gentiles."
Let us pray: God Our Father, today you give us the joy of celebrating the feast of the apostles Peter and Paul. Through them your Church first received the faith. Keep us true to their teaching. Grant this through our Lord Jesus Christ, your Son, who lives and reigns with you and the Holy Spirit, one God, for ever and ever. Amen.