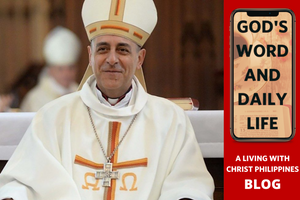 By Fr. Bernard Holzer, aa
On Saturday, July 1, 2023, Pope Francis appointed Archbishop Víctor Manuel Fernández of La Plata (Argentina) as the new Prefect of the Dicastery for the Doctrine of the Faith, whose central purpose is to guard the teaching that flows from the faith in order to "give reasons for our hope, but not as an enemy who critiques and condemns".
In a letter addressed to him (*), Pope Francis encourages us too, to live our faith in a joyful way. He gives us some criteria of discernment for the mission of the Church and for our own life.
"We need a way of thinking which can convincingly present a God who loves, who forgives, who saves, who liberates, who promotes people and calls them to fraternal service.
This happens if "the message has to concentrate on the essentials, on what is most beautiful, most grand, most appealing and at the same time most necessary" 11. You are well aware that there is a harmonious order among the truths of our message, and the greatest danger occurs when secondary issues end up overshadowing the central ones."
(*) Letter of the Holy Father to the new prefect of the Dicastery for the Doctrine of the Faith to Archbishop Víctor Manuel Fernández, Vatican City, 1 July 2023 – www.press.vatican.va/bollettino