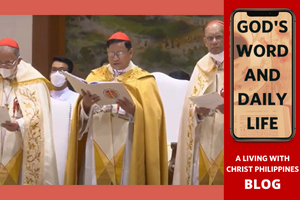 By Fr. Bernard Holzer, aa
Since last Wednesday, October 12, more than 150 bishops from different Asian episcopal conferences have gathered with lay and consecrated persons to mark the 50th anniversary of FABC or the Federation of Asian Bishops' Conferences in Bangkok, Thailand. The Federation was founded during the visit of Pope Paul VI to Manila in 1970.
The conference's presentations and discussions reflect on the theme, "Journeying Together as Peoples of Asia, and the bishops added a theme", which aims to reflect on the "re-emerging and emerging realities and challenges of the Church in Asia."
Pope Francis in a video message told the participants that the Church in Asia is being called "to be more authentically the Church of the poor, the Church of the young, and a Church in dialogue with fellow Asians of other denominations". For him, the fundamental question is: "What is the Spirit saying to the Churches in Asia?"
As members of the Church in Asia, Pope Francis' call and question is for us too.
What will be our concrete answer? It's another way to participate in the Synod on Synodality!