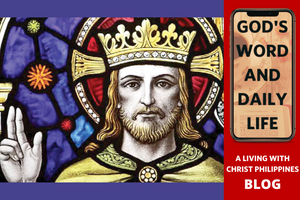 By Tony Morales
On November 20, the universal Church celebrates the Solemnity of Christ the King. We remember that Jesus alone is King of the universe.
Jesus is King. There is no doubt about it. In His lifetime and especially concentrated in His ministry, Jesus preaches about the Kingdom of God His Father. Moreover, in His parable He indicated His kingship by His parables referring to Himself as the Son of Man coming in glory and seated in His throne. Today's gospel reading, the eschatological parable of judgment, Jesus refers to himself as the one sitting in the judgment throne over the lambs and goats.
The Kingship of Jesus is an enduring mystery that pervades the very fabric of salvation history. Having the idea of a "king" especially in the newer contexts of leadership, is not that appealing much less a next-to-skin experience. For most of us who lives in the present setup of democracy ruled by a "president" rather than a "king", we cannot readily settle in to the concept. We may only have a "historical" or "ideal" concept which cuts away from us the "contextual feeling" of having a King in our midst. This proves a real challenge to us in understanding the kingship of Jesus as a mystery of our faith. Sometimes, we loosely shout with no sentimental proximity to the acclamation "Viva, Cristo Rey!" We do not know what we really shouting about. Why Christ is King? It deepens therefore the mystery to us.