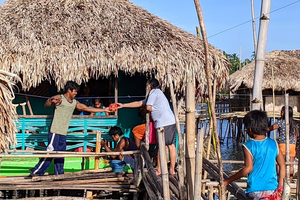 The pandemic that we are going through creates difficulties of all kinds. We are anxious because we do not know the future. Our sufferings and fears are multiplied because of the virus' effect in the economy and in many sectors.  This pandemic is an opportunity for us to rethink the value and dignity of human work as well as the value of others.
 
We are in a time to regain consciousness of the most essential things.
 
At the beginning of this month, the Church has reminded us again that human work is sacred because it makes us participate in God's creative act. Through human work we are able to grow and flourish, to nurture a family, to serve the common good. That sounds abstract, isn't it?
 
Now we are discovering more the importance of nurses, doctors, farmers, fishermen, drivers, delivery men, cashiers, garbage collectors and social workers. They are the humble yet indispensable workers in our lives. They give services that are oftentimes underappreciated and even unrecognized in normal times. They are also the lowest paid workers compared to sports royalties and showbiz stars!
 
This is the time to return to the Beatitudes and to the examples of Jesus – who devoted most of his life to work as carpenter - "he who felt honored to know as the son of a carpenter" (Magnificat antiphon of May 1st). Jesus also washed the feet of his disciples (John 13:1-20).
 
See also the meditation of Pope Francis in his Encyclical "Laudato Si" (no. 98-100).
Our Assumptionist communities are praying for you.