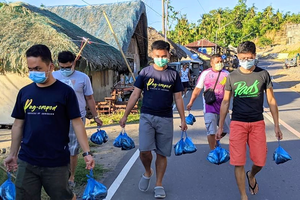 "The comfort and the promise of faith is that God will deliver, and make good on His covenant and lead us where He knows we are meant to go. When we have faith, God proves faithful. When we trust, God proves trustworthy." (The Grand Paradox, Chapter 3)
With all these chaotic situations around, faith in the Lord suffices. "Nothing will I hold back from you, Lord," prays a trusting Christian.
Covid-19 holds the world in pandemic. Every nation declares a lockdown to contain the virus from its transmission. Authorities and media men say that anybody can become a suspect or even a victim and dies, and that a family member or two, even the entire barangay can be put in total quarantine anytime.
This condition causes FEAR and HOPLESSNESS to creep in the neighborhood. With trembling voices, questions are asked: Who is infected? We are poor, what will happen to us? Will the government help?
When times are hard, we Filipinos turn to God and embrace the altar in prayers. A believer writes, "When life goes downhill, lift everything to God and He'll send you His angels." Truly, God's MERCIFUL LOVE showers and covers the offerors.
It takes away their anxieties, fears and troubles. During Eucharistic celebrations and other rites for example, individual and communal prayers are recited to offer petitions for healing, protection and strength. Live streaming finds its way in this pandemic era.
As a country, let us PRAY as ONE and HOPE that we rise above the routine – our day-to-day existence.
Together, let us PUT Covid-19 out of Philippine shore and beyond other shores! And we know that small or big petitions offered, the Lord always listens.